Studio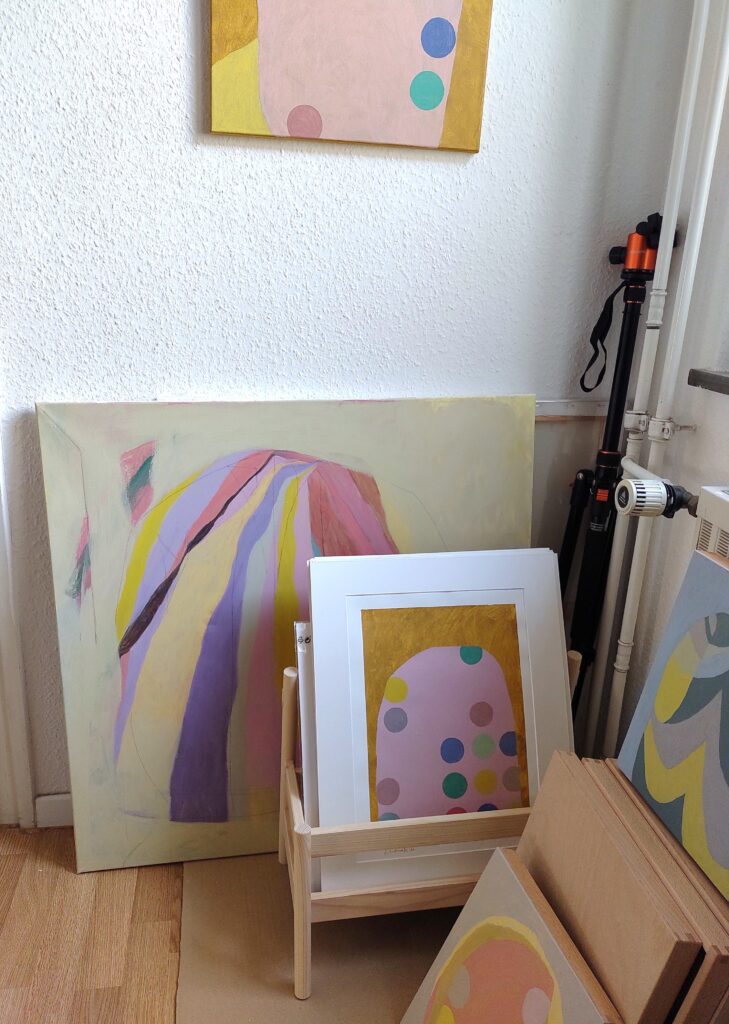 I moved from Argentina to Stuttgart just a year ago to start a new life. Currently, I have a small but nice atelier in my new home, with lots of natural light and nice views to the outside, with greenery, nature, and beautiful houses in the neighborhood. Of course, my idea is in the future to have a bigger atelier, to have more comfort and space to move around, and to be able to produce works in bigger formats.
I have worked in several different ateliers in my life, different in size and possibilities, but I have to say that one of the most important things is the "good vibe" that they transmit to you. Not all spaces have the same energy. My current atelier is small, but I feel very good here! I really like spending time in this space, it invites me to work.
New artworks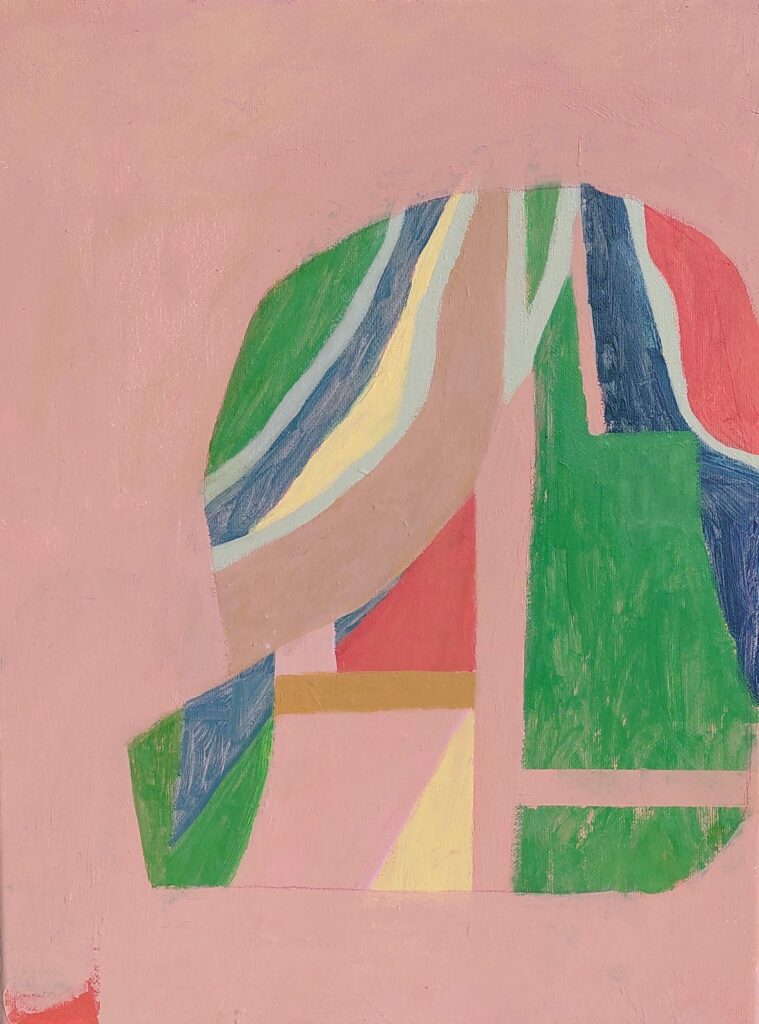 I paint and make collages. A few years ago, I discovered in painting-collage a very good technique to work with, related to my expressive needs. I have always needed to work with fast-drying mediums, such as acrylics, which allow me to superimpose different layers of paint quickly. The hand-painted paper cut-outs that I sometimes incorporate, help me to achieve synthesis, clarity, it is also a way to "go back" when I have already put too much paint and I need to recover air, tranquility, clearer planes of color. I like to combine the gestural and fresh part of the stroke of the brush or pencils, with more structured, almost geometric, planimetric areas, like two poles that must be integrated and complement each other.
In my recent works, belonging to the series "floating mountains", the main figure of the paintings, which is repeated rhythmically in each work, represents a synthesis, and is inspired by the shape of mountains, hills or even the large mansions and villas with gable roofs (gambrel roof) that I observe daily here in Stuttgart. These large, block-like forms or masses are what contain my compositional play. Within these figures many things happen. The choice of colors also plays an important role, because through the various color combinations I simultaneously explore the different possibilities of a harmonious composition.
Inspirations
What inspires me? A lot of things. Of course, not only the work of great masters and contemporary artists that I follow but also life itself, design in all its manifestations (urban, graphic, industrial, architectural, textile…), the city itself, landscapes that combine nature and human constructions, also graffiti and urban interventions such as abstract murals, geometric designs that I can find anywhere, whether on a book cover, on a toy, on a package, on a building.
Studying fine arts changes the way you see the world, and your environment. Just as an athlete trains his muscles, his body, his physical dexterity, the eyes can be trained to perceive in another way, with another subtlety. Even the most insignificant and everyday thing, can become something beautiful: an inspiration to create.
Don't let this up-and-coming artist slip under your radar!
---
Are you an emerging artist and you would like to spread your art? Apply to balthasart! We specialize in up-and-coming talents and we can help you start off the journey on the right foot!