I have been working as a professional artist for more than thirty years. Art and painting have accompanied me my whole life. I studied at the Warsaw Lyceum of Fine Arts, which I graduated with honors. 
Studio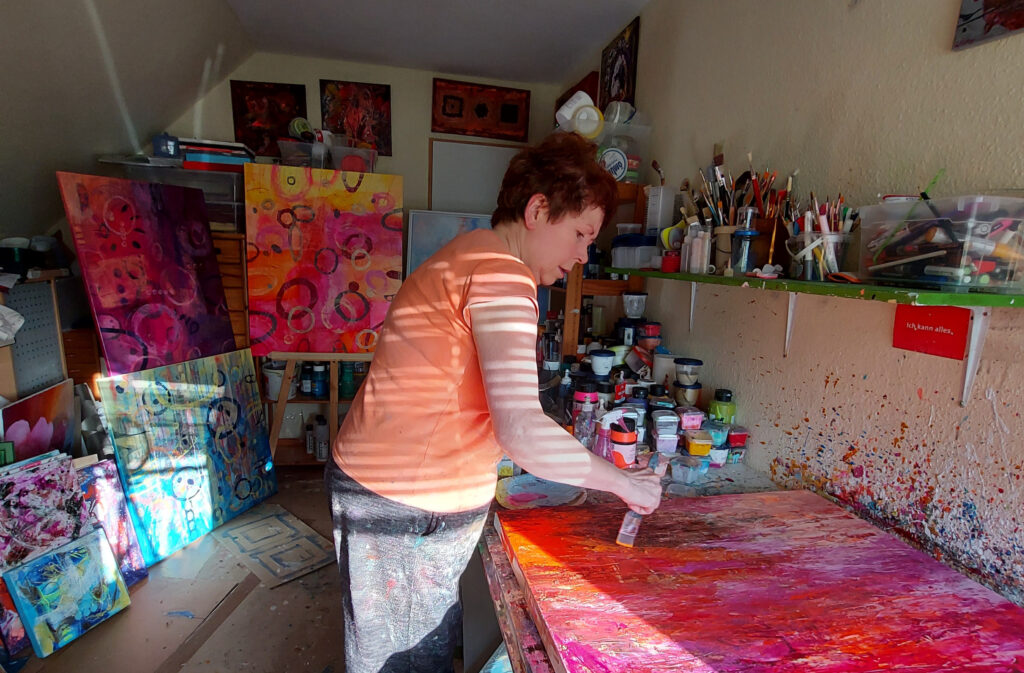 My studio is very small, not 20 square meters, there it is quite chaotic, untidy, there are piles of paint and materials on the shelves, on the floor
and new canvases and frames that I paint myself. There is also a small room next to it where I keep my paintings stacked. Of course I dream of a
large studio, with skylights and sliding walls, a huge table and cabinets and shelves for paints, papers and painting utensils. I very much hope that my dream will someday come true
and I will be able to receive people interested in art there. Independently, I have set up a kind of showroom in my apartment, where you can view and buy my works in the original.
New artworks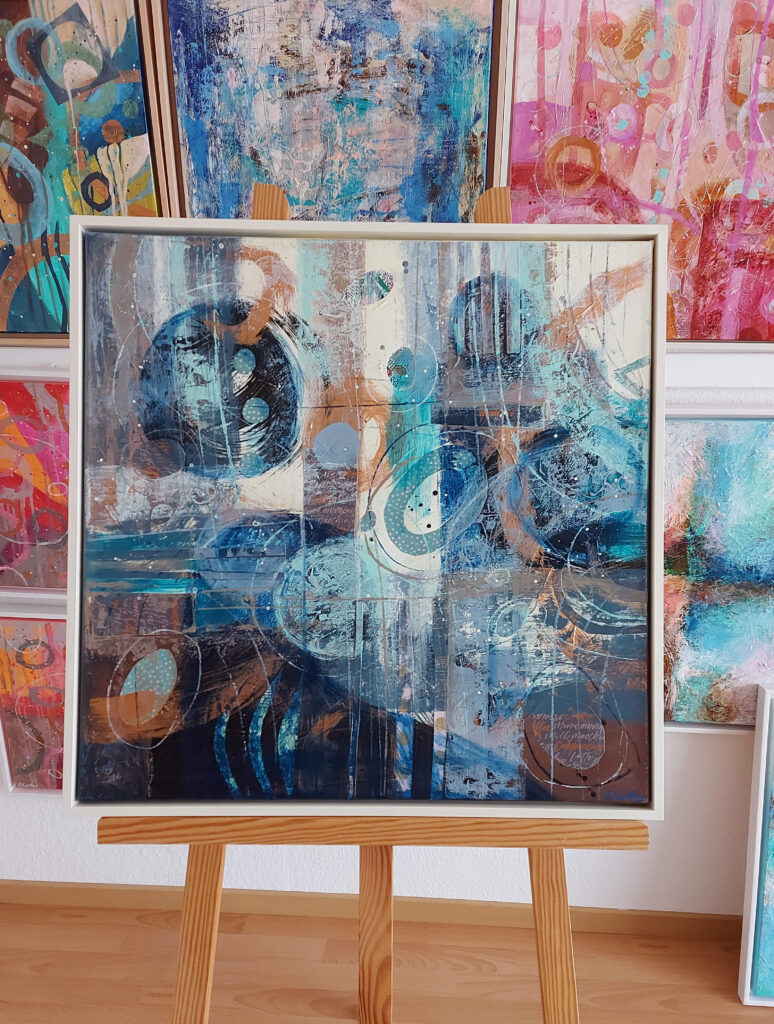 "Walking On The Moon", that's what I called the work. For me walking on the moon means to have the head in the clouds, to be dreamy, to escape from the gray everyday life, to go into a fantasy world.
This mood, which I often experience myself, just dreaming away in a day I wanted to print with different shades of blue, copper and wool white. The colors brighten in the upper area, the dream becomes light and airy, you float on the seventh cloud. Multi-layered color applications emphasize the effect of lightness. I worked with small pieces of paper, which are color coordinated, nevertheless give a sense of liveliness and depth in the picture. The surface is rough and plastic, the collage elements appear sometimes prominent, sometimes they are covered with brushstrokes and colors applied with a roller. This is my absolute favorite painting to which I have an emotional relationship.
Working with a limited color palette should create a delicate and poetic mood.
Inspirations
My inspiration often comes before I start to paint. The impressions from nature, thoughts, conversations, the simple life, that happens, are the impetus and output for my compositions, which are implemented on canvas. Abstract art has enormous possibilities of interpretation of the works, the colors have an emotional effect on a viewer, I try to use this in my paintings. The most important thing are the feelings that I experience when painting, they are crucial for the liveliness and expression of my artworks. Love, warmth, sensuality are very present in my works, because for me it is the core of life, without feelings I can not live and be creative.
The moment I bring my memories, emotions, wonder and thoughts into the creative process, it all merges on the canvas. My hand and my soul are one and the intuitive connection with the resulting work of art releases my power and makes me feel like I am living to the fullest. Pablo Picasso once said, "Painting is another way of keeping a diary." I live this quote every day and I also want to show the viewer the beauty of art and the world. My models include Paul Klee, Miro, Magritte, but also Jackson Pollock, Robert Delaunay and Kandinsky. Often a title is just a cue for the painting process. Abstract artworks are a combination of thoughts, feelings and dreams that occupy me. I transport them onto a canvas and make them visible with shapes and colors.
Don't let this up-and-coming artist slip under your radar!
---
Are you an emerging artist and you would like to spread your art? Apply to balthasart! We specialize in up-and-coming talents and we can help you start off the journey on the right foot!