My name is Ljubow Jung and I am originally from a small picturesque village in Kazakhstan. I mastered my craft at the Moscow University of Arts in the Department of Easel Painting and Graphics. After that I worked as an artist for three years and then did not pick up a brush for almost forty years. In 2020, I decided to start all over again and I am so happy that you are part of that journey.
Studio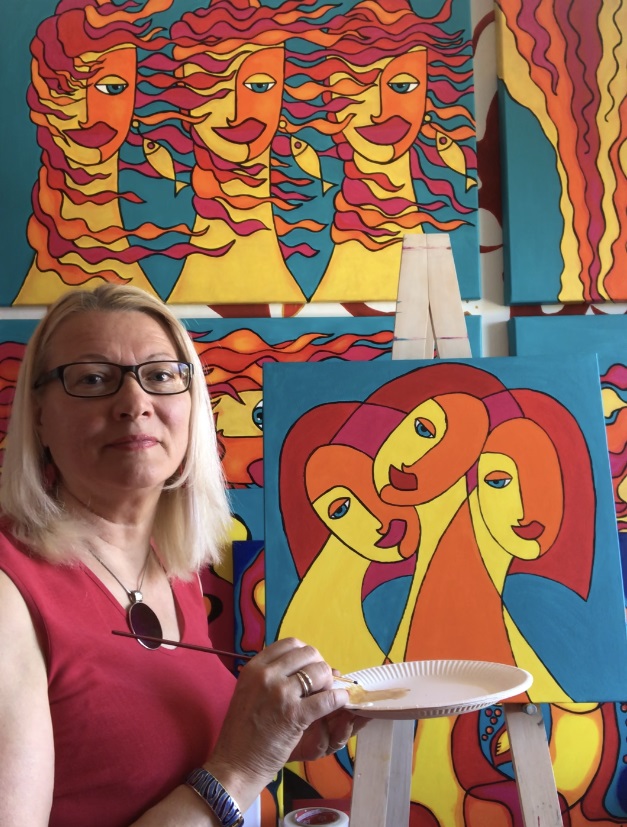 My little home workshop is in one of the three rooms in my flat. The window in the room faces north, but it is always brighter than in the living room. I had to make a little effort and make an area to work in. My easel is on the couch and the finished paintings are kept in a wardrobe. I wanted to make a space on the wall, but there is no free wall. I also dream of having my own studio. There, the windows would be huge and the absence of light would not stop me from working. You must know, I have had poor eyesight since childhood and often have to wait for the sun to come out.

New artworks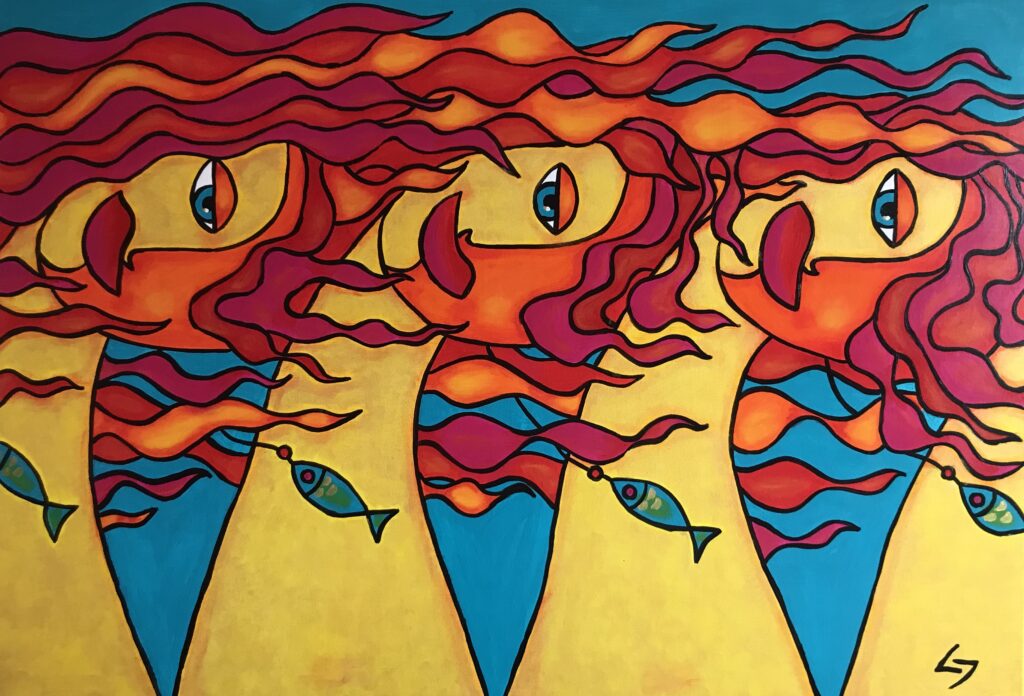 I returned to the visual arts two years ago. I am a graphic artist by profession. For forty years I was occupied with completely different things. I learned the profession of a tailor because of my mother and for twenty years I have been engaged in correcting the behaviour of dogs and training them. Now I am concerned about the position of women in society. All my series and paintings are dedicated to the theme of women. I paint pictures with light colours and with a black outline. In this case I can see the picture clearly and I hope that other visually impaired people can see the picture clearly as well. Now I draw every day and I can't imagine my new life any other way. I am grateful to balthasart for giving me the opportunity to show my work to those who are interested in contemporary art.
Inspirations
I often visit exhibitions and museums, meet artists in person. I like all directions in art, the works of classics and contemporary artists. Leonardo da Vinci, Sandro Botticelli, Raphael, Gustav Klimt, Paula Modersohn-Becker, Tamara de Lempicka, Leonora Carrington. It is simply impossible to list them all. I am also inspired by young artists from balthasart such as Kovács Anna Brigitta, Kerstin Sagebiel and Angelo Marzullo. I am still looking for a simpler way to express myself. I like rounded lines and their intersections. Graphics and geometry. I have many sketches and ideas to create new series. I hope that my works will soon find their admirers.
Don't let this up-and-coming artist slip under your radar!
---
Are you an emerging artist and you would like to spread your art? Apply to balthasart! We specialize in up-and-coming talents and we can help you start off the journey on the right foot!