Hang canvas on the wall seems like an easy job. You can just hang the canvas on a broad-headed nail. However, this way is not the most proper way to do it. The right way should be hung with wires, but it is not as easy as it looks. There are things to prepare and steps to follow.
Hang it with wires
The tools you should prepare in advance
Pencil
wire
Hammer
Nails
Eyehooks
Screwdriver
Tape measure
Steps to follow:
1. Install two eyehooks on each side of the stretcher bars and check if they are stable by giving them a little wiggle.
2 Then, cut a short piece of wire, and join the ends to the eyehooks.
3 Then, choose the ideal location on your wall to hang your canvas. To allow people to enjoy the artwork fully, hang it at eye level or a bit higher.
4 After deciding where to hang the canvas, check to see that it is exactly level. The use of a little spirit-level bar is one straightforward approach. The paintings will remain in position and won't tip over either way if done in this manner. Always be aware of the center points when hanging an unframed canvas.
For the precise steps, you can check out this article, " How to Hang an Unframed Canvas" Inside, there is a precise guide and step-to-step pictures.
It's perfect for hanging the canvas with wires. However, in some rented places, you can't decorate everything as you wish. Here are some ways to hang the canvas without using nails.
1. Double-sided tape(only for the small and light artworks)
Apply a medium-length double-sided tape to all sides of your fabric.
Using a pencil, mark where you want to hang the canvas. Peel off the adhesive tape on the other side of the double-sided tape and stick it on the wall.
Using the spirit level, ensure the canvas is perfectly horizontal.
2. Use stick hooks
Sticky hooks can be found easily, and it is an easy way to hang artworks without damaging the wall.
They can hold on to many different kinds of walls and adapt to different surfaces. Use stick hooks as a replacement for nails, and your wall wouldn't be damaged.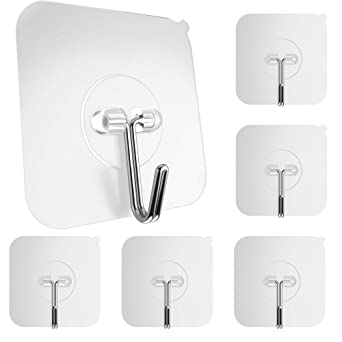 If you still want to know more about how to hang a canvas without damaging the walls, the video below will help you a lot.
If you want to be a pro at hanging artwork, this video below is made for you.
What next?
Now you have learned how to hang a canvas from A-Z. You must want to decorate your wall with your favorite artwork. Find your next favorite artwork in Balthasart to enlighten your indoor design and apply the skills you learn today !!!