In our digital world, if you are an artist, it may seem like you need to sell your art online to get any sales at all! It can seem a bit daunting, as the internet is famously a vast and wild place. Fear not! You just keep on creating, and let your friends at balthasart teach you the rest. In this article, we break down the importance of putting your data cap on and understanding how to get maximum visibility online for your artworks. Enjoy this ultimate guide to webmarketing for artists!
Step 1 – Join the community of experts
Artist communities online are massive! You can find great tips and resources about everything from different techniques, styles, themes, and much more.
On Instagram, for example, you can see talented artists to be inspired by, chat with, or to collaborate with. On Facebook, there are many artist groups that are dedicated to the interaction of artists, where you can share your experiences and your works, ask for feedback, and get inspiration. On Pinterest, YouTube, and other social media communities, you can find all various types of learnings and information.
Besides social media communities, there are also websites, like your friends at balthasart, that provide services and create a dedicated community to artists who share our ambition to democratize the art world! At balthasart, you can benefit from the great community of other up-and-coming artists who are looking to sell their art and meet their audience! We also have been known to release some great resources for artists (and there will be plenty more to come)!
Step 2 – Be active on your social media
Apart from helping you join the artists community, social media can also help you reach out to your collectors. When a collector had their crush on an artwork, they might also like to know more stories about the artist and the works behind the masterpiece. This is the most cost-savvy way to connect to your audience. Social media can make selling art online easier and more accessible!
So don't hesitate to constantly publish your artwork, use the most popular and appropriate hashtags that expresses your works such as #paintings, #artworks, and #balthasart. 😉
Step 3 – Have your personal page
There are several ways to showcase your artwork so that art collectors can access your works, make the inquiry, and buy it!
You can definitely sell art online by opening your own website with a unique domain, where routine website maintenance ranges from $35 to $5000 per month — or $400 to $60,000 per year (source). But, what if we told you that you can sell art online in a cost effective way, without having to be a digital expert?
At balthasart, by spending only 240 euros, you will benefit from having a dedicated personal page plus our free webmarketing service that brings potential clients to constantly browse your page and artworks. 
What does webmarketing mean for artists?
In short, your page and your works are being shown to the right people at the right time – to the ones who are most likely to purchase at the time when they are looking for an artwork of your style!
In detail, it covers a 360-degree service which involve both human interaction and machine intelligence:
24/7 active instagram shop where followers can browse and purchase anytime from anywhere in a few clicks
24/7 active social media sponsored targeting at millions of potential buyers with the most efficient messages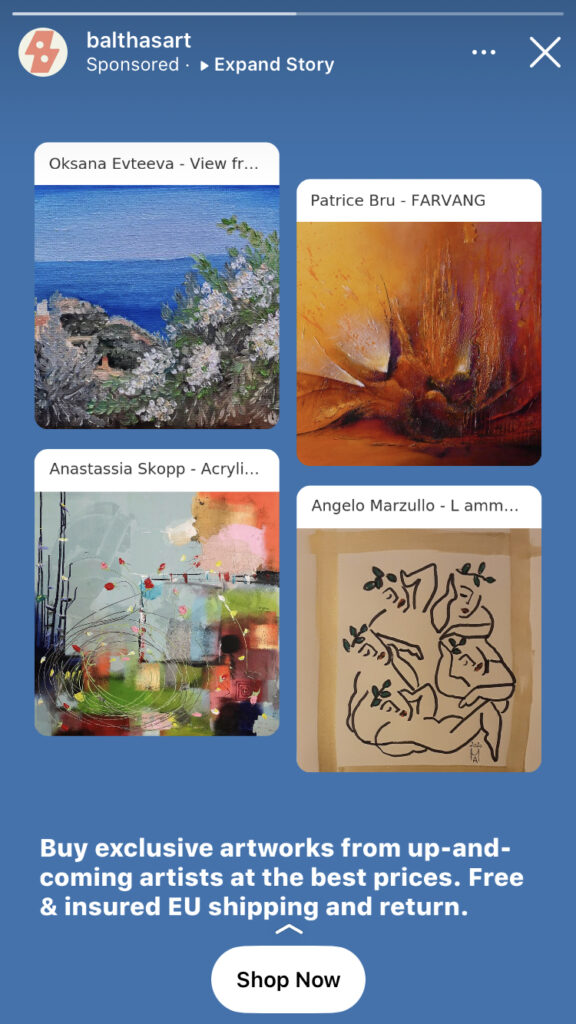 All artworks from every artist on balthasart.com are synchronized with social media ads and Instagram shopping capabilities so that every artwork (that comply with Facebook/Instagram advertising regulation) has a chance to find its collector!
Massive Google coverage of clients who are actively searching to buy an artwork – from everywhere in EU and with all the website languages that we support
Whenever you are looking to acquire an artwork, balthasart has its presence
Art lovers might also see your artworks from their phone or laptop whenever they are browsing online
Why am I not seeing those ads that sell art on social media?
Why am I only seeing ads that you are recruiting artists?
Before having this question, you may ask yourself: am I an art collector? Would I like to purchase an artwork from balthasart?
If you are not a potential customer, then you are likely not to see an ad about selling artworks, because advertisements are meant to be efficient and to be delivered to the right person at the right moment so your artworks will be seen by the persons who are mostly likely to make a purchase.
If you are looking to buy an artwork but still not seeing any ads about balthasart, please feel free to contact us and help us improve. 🙂
Why am I not having the amount of visitors or followers of my page as I would like to?
Now come the real tricks – how to improve your page so that potential customers will not miss it!
Step 4 – Improve content on your personal page to stand out
Now you are ready to sell art online! Once you have your personal page established, try to add as many descriptions and personal stories as you can.
Tell your own story, and describe your artworks to make them stand out.
Tag them with the most suitable themes so that they can appear once a collector filters the criteria to find a certain type of work.
And last but not least – how to price your artwork, which we explain in detail in this article!
Want to join the community of up-and-coming artists on balthasart?