Hello! I am Laura and I live in Italy not far from Parma, the city where I was born. In my life I have always and only dedicated myself to Art both as a student and then in my work. I went from Architecture to the study of Ancient Mosaic, Sculpture, Tattoo and Painting… I graduated in Painting in 2003 at the Academy of Fine Arts in Bologna and during my Academic studies I spent periods of study in Athens and Barcelona. When I was a student I also worked as a writer of Art reviews for an Institution that organized exhibitions for artists. Since 2020 I am devoting more and more time to Painting and I hope with the years it will turn into my only activity.
Studio
The Studio where I paint is in the same apartment where I work as a tattoo artist and also where I live. This organization has allowed me to smoothly transform Painting into a daily practice and mediator for the healing of my soul, something I can no longer give up . There are several rooms in this large apartment and one of them is dedicated exclusively to my work as a Painter: it is a room that is not so large but well organized because there is also a small spare loft that functions as a storage room for already finished paintings and also for new canvases. The light is very good because I have a large window and I paint right in front of it. I am very close to a large Park and this is important because in that place I often take my inspirations and it makes me feel part of Nature from which I am inspired in my work as a Painter.
New artworks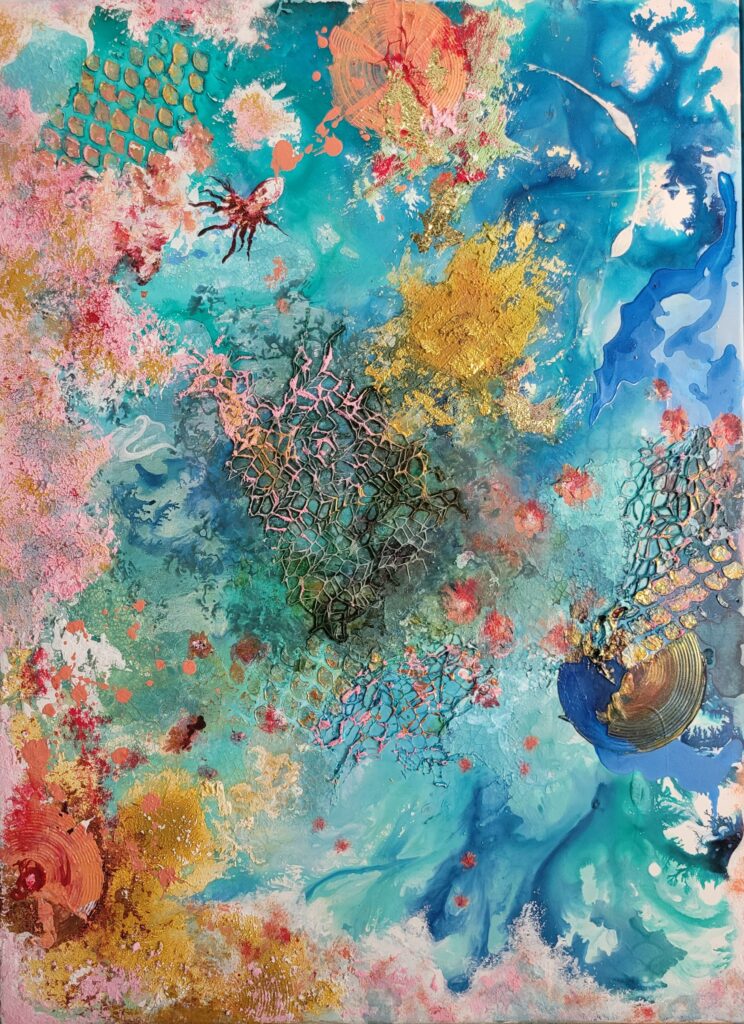 Lately I have been dedicated to the theme of the WATER element, working mainly with acrylic paints on canvas and often using a combination of fluid colors and denser brushstrokes to which I combine different materials such as glued fabrics, modeling pastes, sand chalk… which can help me to create a more exciting visual effect . My mission is to create emotions, experiences, feelings and visual journeys. I also worked on the creation of two canvases that I had to present for a Collective Exhibition that has just ended: they are two works that are related to the theme of Water but with an interpretation that brings us back to the mythological theme of the Mermaid. I am simultaneously working on another theme related to NATURE as a wild garden or as a floral thought in a more poetic sense. When I choose a theme I generally do not create a single work, but create a series of works to share more emotions and different colors.
Inspirations
I chose to express myself in the Abstract style because I can experiment freely and I can free myself from the precision I need when I do my work as a tattoo artist. I practice Meditation daily before I start painting with the intention of freeing myself from all thoughts that do not serve me in the practice of Painting. Another element that inspires and accompanies me in my work as a Painter is Music: I generally prefer Classical music and among the authors Erik Satie and Emiliano Toso.
I try to visit many Exhibitions, in Italy and in Europe plus I have studied Art History for many years: that is why there are many Artists I love and who could inspire me. I love all the Impressionists, especially Monet and his Water Lilies but also Pollock's Abstract Expressionism especially for the message he left us. Another artist I carry in my heart and who inspires me when I work on the more romantic Landscapes like "Dreamscape" is William Turner, for me he is among the greatest artists ever. Another artist I am inspired by is Van Gogh: especially I love in him the full-bodied brushstroke from which you can capture the movement of the artist's hand.
I also love Picasso very much and I love to remember a sentence of his " ..the Artist does not paint what he sees, but what he feels, what he says to himself about what he has seen". I believe that the artist's inspiration is an accumulation of experiences and feelings and starting from this conviction I am always looking for a creative process that expresses this overlap of elements and styles to create a new balance: my works are often different from each other, I like to experiment and create different impressions and emotions: this is my universe and everything I meet or dream can inspire me , for me it is impossible to create works of art homogeneous between them because I am not always the same, but I get involved by what creates energy in me.
Don't let this up-and-coming artist slip under your radar!
---
Are you an emerging artist and you would like to spread your art? Apply to balthasart! We specialize in up-and-coming talents and we can help you start off the journey on the right foot!