My name is Margarita Siebke and I live and work in Mainz, Germany. I am a theologian, a learning therapist and above all an artist. I paint in acrylic, oil and pastel and draw with charcoal, ink and more. In the last two years I have created a number of digital paintings and drawings. My path is now going back to analogue painting without denying the digital experience. I am planning a combination of both.
Studio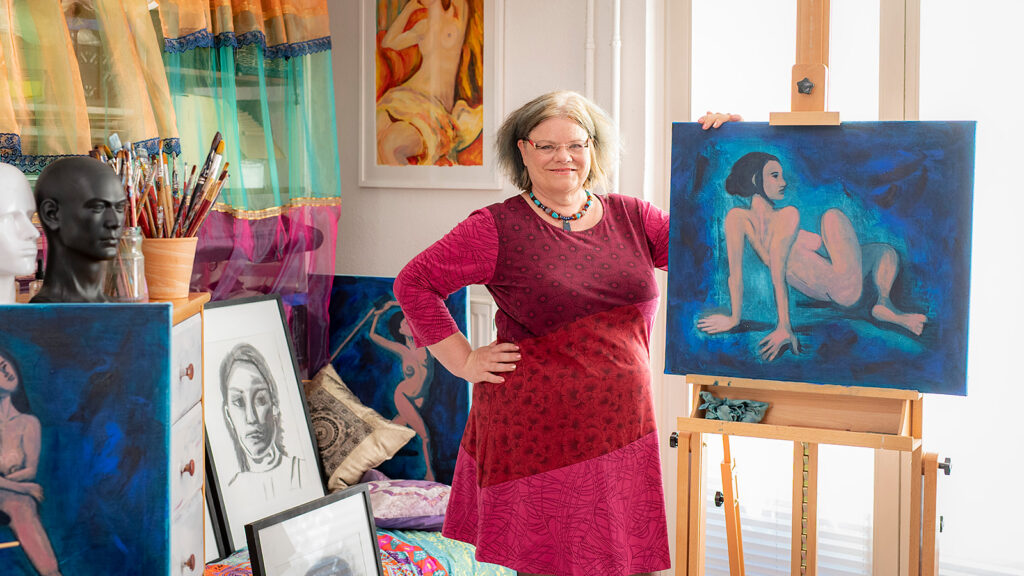 My studio has grown slowly. In the beginning I only had a small easel in a corner of my living room. But over time I removed the original living room furniture and replaced it with work tables. I also put up shelves for drawings, paints and art reading.

The studio has a wide window front with a French balcony where I planted roses. They bloom very lushly in the summer. Unfortunately, since I live in the city, I can otherwise only see the big white wall of the department stores opposite. But that doesn't put me off, because I imagine it like a big white canvas that I paint with the most beautiful landscapes. Since the studio has the best light conditions in the morning because of this white wall, I like to paint in the morning. in the morning. It's also convenient because I work as a learning therapist in the afternoon. Since the pandemic, mostly in video therapy, in the room next to the studio. So in my studio I not only paint pictures, but also make materials for learning therapy. For example, colourfully painted word blocks or slates for developing beautiful handwriting for the students.

After being accepted at balthasart, I am happy and highly motivated to work on my paintings here, especially in the mornings. For me, this is a big step forward. In the last few years I have spent a lot of time developing websites and the like. That's over now and I can devote myself entirely to my painting: It's a dream come true.
New artworks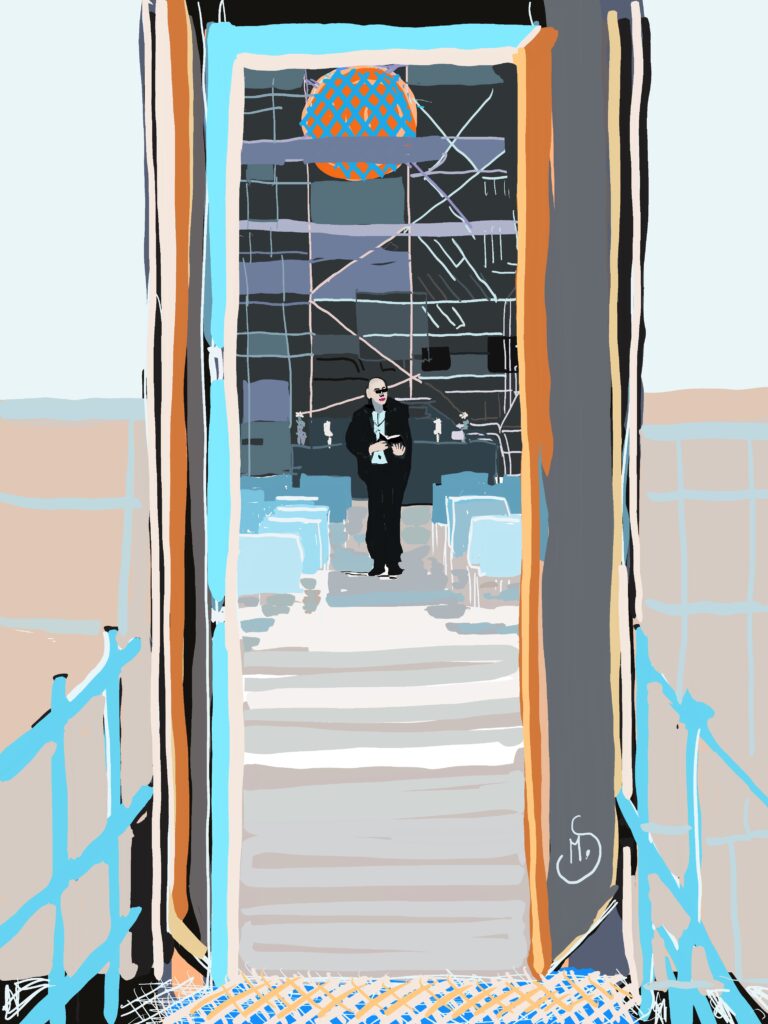 I started painting in 2004 when I was in hospital. The white wall of the hospital room was unbearable for me and from somewhere I got oil pastels and a block. I put my good and bad dreams on paper and soon the whole wall was full of colourful and cryptic pictures.
After my stay in hospital, I went to a health resort. There were various creative groups there. Among others, there was also a group for the garden house. One day a spokesperson for the garden house patients approached me and told me that the garden gnome needed to be repainted and that the garden house group had unanimously decided that I should do it because I had the most artistic talent. I felt very honoured and never has a garden gnome been painted with more dedication. Another patient also approached me at the time and recommended Julia Cameron's books. So I was encouraged and subsequently enrolled in the Mainz Art Workshop. Here I was able to complete a four-year part-time training as an artist, which I completed with honours. The head of the workshop was Doris Happel.
I am interested in the figure, in nudes and portraits, but also in animals and angels. I can't say exactly what fascinates me so much. To a large extent it is the shapes and colours of the figures as they present themselves to me. I like to stylise them. But on another level, I try to capture the essence of people, to make them visible, the soul and expression of people, animals and angels with all their contradictions that cannot be put into words. Another theme I have dealt with, especially in digital images, is sacred space and the figure in sacred space. I think exciting things can still develop here.
Inspirations
On the one hand, I am inspired by photos, on the other hand by observing the people I meet, and thirdly simply by my imagination. This develops as I paint.
This is how I proceed, for example: The nudes I painted recently were first sketched at a nude session. Then I photographed the sketches and stylised them digitally. Then I printed out the digital drawing again and drew this drawing freely with red chalk on the white primed canvas, fixed it with fixative, painted over it with a thin layer of acrylic and then painted the picture and then developed the painting over it. In this way I combine analogue and digital techniques. These experiments are exciting.
I get further inspiration from online courses. I would especially like to mention the courses of Sandra Süsser, with whom I learned digital painting, and Brent Eviston, whose courses perfected my drawing skills, especially in nude drawing. There is still a lot to discover. I am curious about that.
Don't let this up-and-coming artist slip under your radar!
---
Are you an emerging artist and you would like to spread your art? Apply to balthasart! We specialize in up-and-coming talents and we can help you start off the journey on the right foot!