Yay! You're looking to create your artistic future and see how to sell art online with us on balthasart. This is big! In a recent piece, we discussed how important it is to have a digital presence as an artist, as well as gave some recommendations for creating the finest online portfolio. So it's great that you've decided to embrace the Internet and even more wisely, to join our community! As you begin your adventure with our online art market, this article will provide you with ideas on how to improve your visibility on balthasart at each level so that you may get the most out of our platform!
In the Back Office:
You're eager to build a profile with balthasart, of course you are! You click on the link and are greeted with the Back Office. So, what's next? The Back Office is a blank canvas at this point, ready to be filled with whatever best symbolizes you as an artist in order to attract potential consumers. You may explore the Back Office and finish your profile in whatever sequence you like by using the buttons on the left hand side of the page. Here are some pointers on how to sell art online and improve your visibility on balthasart by modifying your profile.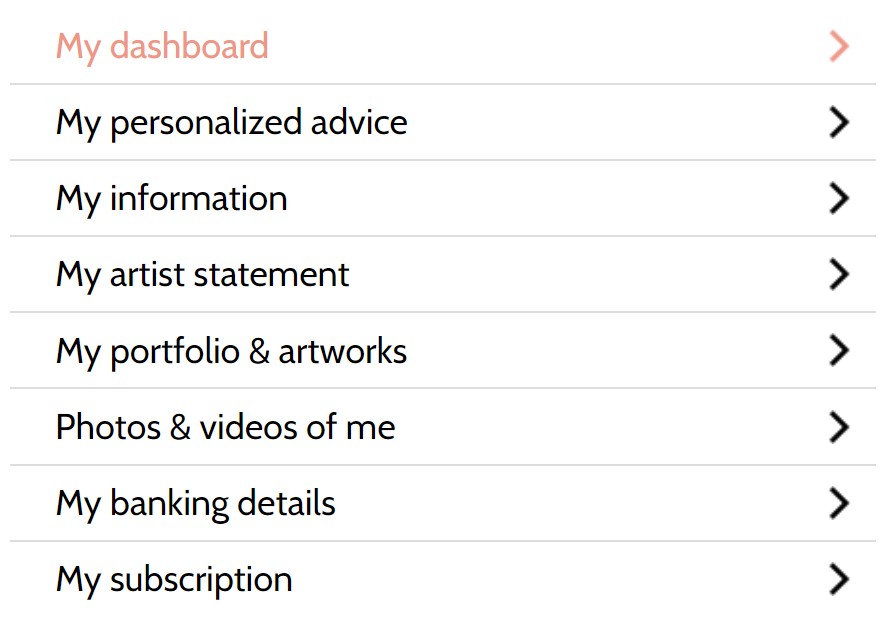 Profile pictures:
Beautiful images of the artwork you intend to sell are essential to any online portfolio. However, on balthasart we also require some great shots of the artist and/or their studio. By taking time and consideration to complete the section 'Photos & videos of me', you can create a stand-out professional profile. The impressive landscape image found at the top of each artist's page is important as it acts as the introduction to your profile. Find an image you feel confidently portrays what goes on behind the scenes of your art, whether that be an image of you in your studio or something that provides you with artistic inspiration. In addition, including videos and additional pictures of your studio create further intrigue and a greater appreciation for your art.
Your biography:
At balthasart you have to take the time to construct a unique artist statement for your works. The text in the center of your page breathes life into your artwork by capturing your voice and telling your own narrative. We recommend that you provide precise answers to the questions so that you can best portray your artistic perspective. To prevent slowing down the writing process, please do not copy and paste your CV or large biographical passages. You will also deliver original and honest replies if you take the time to sit down and compose an answer.
Once you're up and running…
Congratulations! You've completed your profile in the Back Office with the help of our exclusive hints, and your page has been published on the balthasart website, where collectors from countries across the EU may appreciate it! Our customer care team and marketing professionals do everything possible to promote your art online, but there are certain things you can do yourself if you want to boost your presence on balthasart further.
When talking about how to sell art online, sharing your balthasart profile on your website gives the attractive page you've built more visibility. Furthermore, it allows clients from all over the world to buy your paintings, with our team handling the sale's logistics and covering all shipping charges. There are lots of how-to tutorials available if you need assistance generating a connection from your website to your balthasart page. 
Social media is a powerful tool for reaching new audiences and increasing online awareness. To be considered for a feature on balthasart's Instagram page, upload a photo to your Instagram story and tag @balthasart as we can then share your art with our thousands of followers!
Please keep in contact!
Finally, it's critical to stay connected and involved on balthasart in order to increase your visibility. Uploading fresh artwork and maintaining an up-to-date profile will increase your visibility and sales. Don't forget to sign up for our emails, follow us on Instagram, and contact Sarah via the website if you have any issues. Our goal is to empower our artists, and we're always willing to lend a hand!
Head to your Back Office and begin boosting your art!