One of the most well-known figures in contemporary art, Jean-Michel Basquiat's life and career was quite interesting. He went from homelessness to one of the most famed artists in the world in just a few years! He was one of the most pivotal figures for bringing street art to the masses and having it gain respect as a true art form. His style has gone on to inspire people years after his death, especially us here at balthasart. So, lets take a dive into the roller coaster life and career of the legend himself!
Early Life
The art star that would forever change the world of art, Jean-Michel Basquiat, was born in Brooklyn in 1960. His mother was also born in Brooklyn but to a family from Puerto Rico, and his father was an immigrant from Port-au-Prince, Haiti. This mix of heritages and cultures made the young Jean-Michel fluent in both French and Spanish as well as English. In his youth, he loved French symbolist poetry in their original language, and this would later be an influence on the artworks that he made as an adult. Basquiat was no ordinary kid. His talent for art was clear early in his childhood, as he learned to draw and paint with his mother's encouragement and the supplies brought home from his father's job as an accountant. This hunger and encouragement of creativity was only strengthened by Basquiat and his mother attending many museum exhibitions in New York, and by age 6, Jean-Michel was enrolled as a Junior Member of the Brooklyn Museum.
His life would then be hit with a huge change, quite literally. Basquiat was hit by a car while playing in the street at age 8, and had to have surgery for the removal of his spleen. This struggle would actually turn to one of his greatest inspirations, as it led to him reading the famous medical and artistic treatise, Gray's Anatomy, which was given to him by his mother while he was recovering. The graphic, biomechanical images of this book, mixed with the influences of the comic books and cartoons that the young Basquiat enjoyed, would come together perfectly to create the signature graffiti-inscribed canvases for which he became famous for!
Another turning point for young Jean-Michel was his parents' divorce. Basquiat lived alone with his father, after his mother had been determined unfit to care for him due to her mental health problems. After going through physical and emotional abuse from his father, Basquiat eventually ran away from home and was adopted by a friend's family. Although he attended school sporadically in New York and Puerto Rico, he finally dropped out of school, at the age of 17. While this may have seemed like a bad decision at the time, it would propel Basquiat to the scene where he would thrive.
SAMO Years
A true rebellious and unique spirit, Basquiat never had any real formal training. He never went to art school, and in fact, failed the art courses that he did take in school. He preferred to be inspired by the world around him, and letting his curiosity guide him as he looked at a lot of things. That's how he learnt about art, by looking at it. Basquiat's art was firmly rooted in the New York City graffiti scene of the 1970s. After becoming involved in a drama group, he developed the character SAMO (an acronym for "Same Old Shit"). SAMO was a man who tried to sell a fake religion to audiences. In 1976, he and an artist friend, Al Diaz, started spray-painting buildings in Lower Manhattan under this nom de plume. SAMO pieces were mostly text, and communicated an anti-establishment, anti-religion, and anti-politics message. The text messages were accompanied by logos and imagery that would later feature in Basquiat's solo work, particularly his famous motif of a three-pointed crown.
The SAMO pieces soon received a lot of buzz around New York's underground art circles and the counterculture press, most notably the Village Voice, a publication that documented art, culture, and music that saw itself as distinct from the mainstream. Basquiat and Diaz had a disagreement and decided to stop working together, so Basquiat ended the project with the very direct message: SAMO IS DEAD. This message appeared on the facade of several SoHo art galleries and downtown buildings during 1980. After taking note of the declaration, Basquiat's friend and fellow street art legend Keith Haring staged a fake funeral for SAMO at Club 57, an underground nightclub.
While his art was gaining traction, Basquiat was not living the high life just yet. He was frequently homeless and forced to sleep at friend's apartments or on park benches. He could only support himself by panhandling, dealing drugs, and peddling hand-painted postcards and T-shirts. He definitely loved to party, however, and frequented downtown clubs, particularly the Mudd Club and Club 57. Both clubs were key to his development as they were popular hangouts for a new generation of visual artists and musicians, including Keith Haring, Kenny Scharf, movie director Jim Jarmusch and Ann Magnusson, who all eventually became friends and collaborators with Basquiat.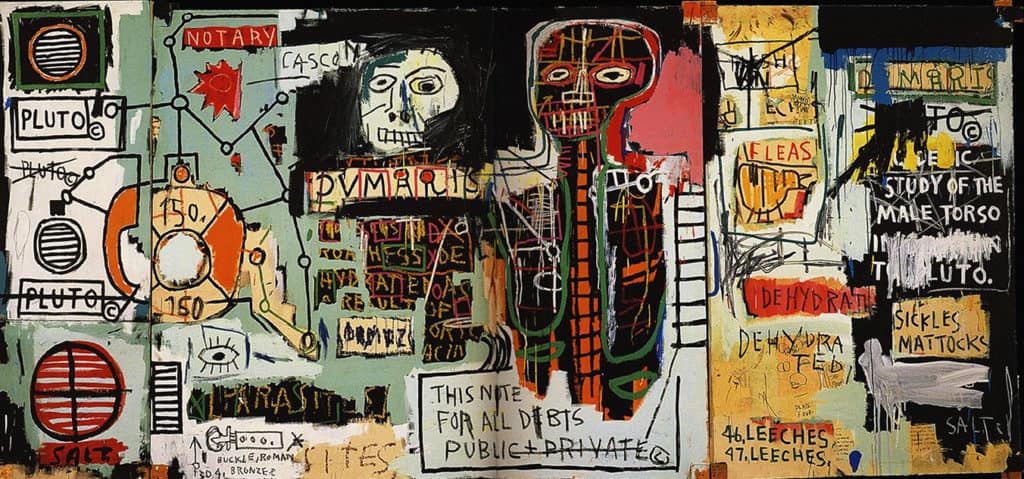 Because he was so immersed in this downtown party scene, Basquiat began to gain more opportunities to show his art, and became a key figure in the new downtown artistic movement happening in New York at the time. For example, he had a little guest appearance as a nightclub DJ in the music video for Blondie's Rapture, which only verified him as a figure within the "new wave" of cool music, art, and film emerging from the Lower East Side. Basquiat was also incredibly socially conscious and was quite critical of the lack of people of color in the downtown scene, so in the late 1970s he also began spending time uptown with graffiti artists in the Bronx and Harlem.
After his work was included in the historic Times Square Show of June 1980, Basquiat's profile only rose higher and faster as he had his first solo exhibition in 1982 at the Annina Nosei Gallery in SoHo. His signature Neo-Expressionist style marked the return of painting and the re-emergence of the human figure in contemporary art making. He had a love of referencing the African Diaspora and classic Americana in his work at this time. Some of these pieces would be featured at the prestigious Mary Boone Gallery in solo shows in the mid 1980s (Basquiat was later represented by art dealer and gallerist Larry Gagosian in Los Angeles).
Mature Period
1982 was quite the pivotal year for Basquiat's career. He opened six solo shows in cities all over the world, and he became the youngest artist ever to be included in Documenta, which is a super prestigious international contemporary art extravaganza held every five years in Kassel, Germany. During this time, Basquiat created some 200 art works and developed his signature motif: a heroic, crowned black oracle figure. he took heaps of inspirations from figures like legendary jazz musician Dizzy Gillespie and boxers Sugar Ray Robinson, and Muhammad Ali. His style was sketchy and often abstract, because the goal of his portraits was to capture the essence rather than the physical likeness of the subjects. His fierce and slashing style of paint and dynamic dashes of line, was intended to reveal what he saw as his subjects' inner self, their hidden feelings, and their deepest desires. These works also reinforced the intellect and passion of the subjects.
By the early 1980s, Basquiat had a best friend in the art world, who was none other than the famous Pop artist Andy Warhol. He and Warhol collaborated on a series of works from 1984 to 1986, such as Ten Punching Bags (Last Supper) (1985-86). In 1985, a New York Times Magazine feature article declared Basquiat as the hot young American artist of the 1980s. This relationship became the subject of friction between Basquiat and many of his downtown contemporaries, as it appeared to mark Jean-Michel by his street art contemporaries as someone selling out to the commercial aspects of the art industry.
Warhol was also heavily criticized for potentially exploiting the talents of a young and fashionable artist of color to boost his own credentials. These collaborations were not super well received by either audiences or critics, and are now often viewed as lesser works of both artists.
Perhaps because of the dizzying heights of his new-found fame, the circles of friends he was with, and commercial pressure on his work, Basquiat was by this point of his life becoming increasingly addicted to both heroin and cocaine. Several friends linked this dependency to the stress of maintaining his career and the pressures of being a person of color in a predominantly white art world. Basquiat sadly died of a heroin overdose in his apartment in 1988 at the age of 27.
The Legacy of Jean-Michel Basquiat
Even with such a short life, Jean-Michel Basquiat came to play an important and historic role in the rise of the downtown cultural scene in New York and Neo-Expressionism more broadly. Unfortunately, he was a product of the celebrity and commerce-obsessed culture of the 1980s. Basquiat and his work continue to serve for many observers as a metaphor for the dangers of artistic and social excess. Like the comic book superheroes that formed his early influence, Basquiat rocketed to fame and riches, and then, just as quickly, fell back down to Earth, the victim of drug abuse and eventual overdose. Basquiat' art has come to stand in for that particular period of countercultural New York art. However, nowadays, there have been a number of commercial licenses granted for the reproduction of several of his visual motifs. Recently this has included a range of graphic print shirts at Uniqlo, along with brands like Coach and Tiffany's featuring his works or motifs in their ads and products.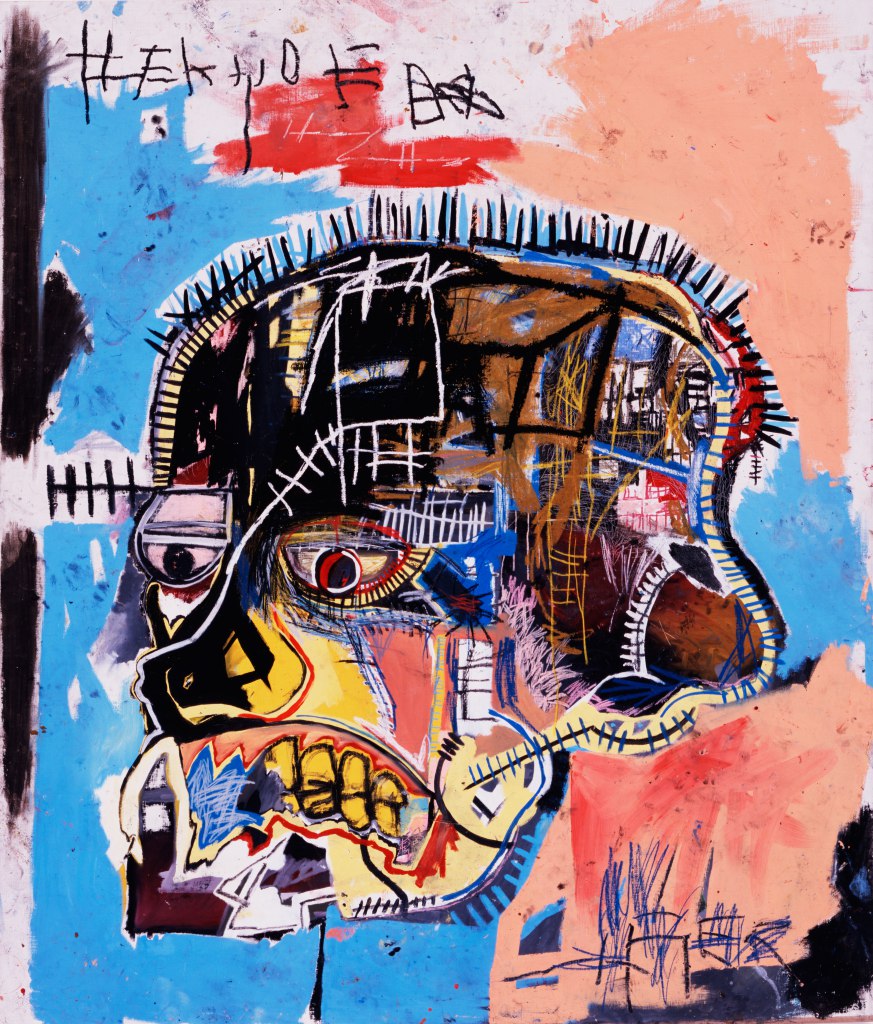 The rise in Basquiat's profile since his death has also pushed new artists to make work inspired by or even in direct reference to his work. This includes painters, graffiti and installation artists, but also musicians, poets and filmmakers. His influence can be seen across the art scene, and his raw style and creativity continues to turn the minds of artists and art lovers alike. Although his was a cautionary tale, his impact cannot be understated and his legacy, so it seems, will continue to inspire people for more years to come.