My name is Inge Gründel-Pfaff and I live in the beautiful southern Black Forest near Freiburg. I started with silk painting and airbrush technique, and then came to acrylic painting via pastel chalk work. I continue to develop my spectrum in courses with international artists. I have also completed a correspondence course in "Creative Painting School" at the Hamburg Academy.
Studio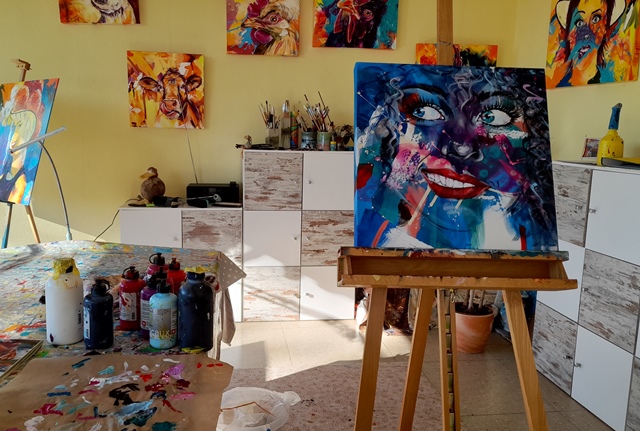 I fulfilled my dream of having my own gallery and studio "KUNsTERBUNT" in Bad Bellingen in 2014. At the latest when the acrylic paint on the carpet in my living room got the upper hand it was time to find a new place to work!

Now I paint in a former household goods shop. I have a lot of open windows and light and also the possibility to exhibit the paintings at the same time and make them accessible to visitors.
New artworks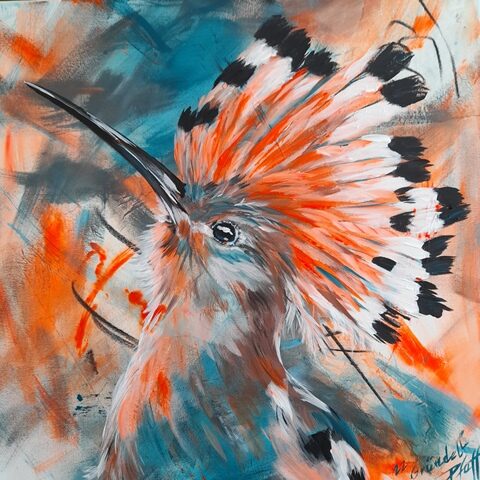 I prefer acrylic painting. I combine all the possibilities that these techniques offer and use brushes and palette knives, apply the colours in multiple layers, and depending on the artistic idea, I also work with pours, for which acrylic paint is very suitable. But glaze, spray, marker, graphite pencils and pigments also find their way onto the canvas.
I have specialised in portraits of people and animals. I am also happy to offer commissioned painting; Painting memories of a beloved person or animal from photos. Realistic or pop up style are available as well on request by arrangement.
Inspirations
Animals and people interest me in all their diversity, peculiarities and above all their personality and temperament. I usually start with the eyes in the portraits so that the painting already lives! The eyes are the "mirrors of the soul" and for me the most decisive thing about the work of art itself.
Preserving tradition is also very important to me, especially in these volatile times. times, as it gives us common ground and strength. That's why I like to paint traditional costumes and motifs, of course always in a cheerful and contemporary way.
I myself have been playing in the music society for over 40 years and enjoy traditions such as folk festivals. like folk festivals and also like to wear the musician's costume. Here, too, I offer to have yourself painted with a traditional costume hat. I paint and live by my motto: "I want to bring colour into your life, the world is grey enough already".
Don't let this up-and-coming artist slip under your radar!
---
Are you an emerging artist and you would like to spread your art? Apply to balthasart! We specialize in up-and-coming talents and we can help you start off the journey on the right foot!