It's no secret that throughout history, women have not gotten their fair shake in the art world. Even despite the inequalities facing them, there are so many stories of women artists who created groundbreaking works. With these few triumphs, the art industry at large has always been and has remained male dominated. Slowly, but surely, the tide is turning and things are changing for the better. One of the marquee groups fighting for this change since the 1980s is the radical art group, Guerrilla Girls! Their public stunts calling out the inequalities of the high art world have made waves and opened a dialogue for how women and minority artists are treated in high art spaces. Here at balthasart, we are all about closing the gaps of the art market and empowering artists, so we love groups like this fighting for equality! This is their story!
Origins of the Group
It all started In 1984. Only 13 out of 169 contemporary artists invited to display work at the Museum of Modern Art's International Survey of Recent Painting and Sculpture were women. The Women's Caucus were rightly outraged and organized a protest in front of MoMA. Along with others, the Guerrilla Girls stood outside the exhibition with signs, and all were unfortunately ignored. As if to underscore that the art world gave no thought to women artists at all, the exhibition's curator Kynaston McShine remarked rather sarcastically that "any artist who wasn't in the show should rethink his career". According to the Guerrilla girls, that was the moment they knew that old fashioned picketing just would not do the trick, they needed a new, more media savvy approach.
Guerrillas vs Gorillas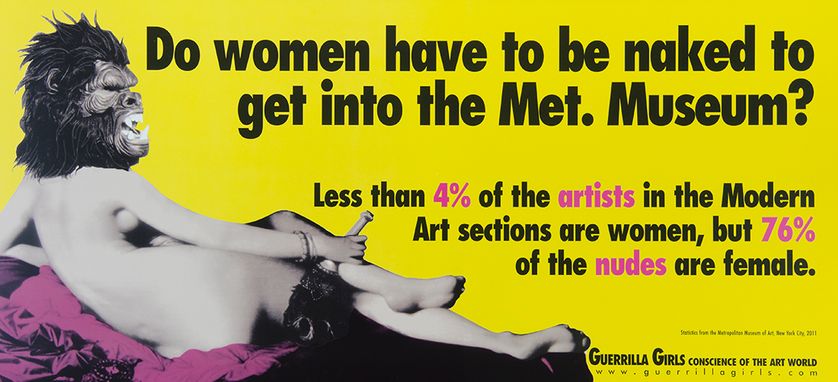 The more media savvy, more contemporary way was indeed developed by the group soon after. This  included a fortuitous misspelling of "guerrilla" by one of the group members, which gave them the idea to adopt gorilla masks as their official disguise. In 1985, they began pasting posters or stickers in visible places around New York City near art galleries and museums.
Their first posters were text-based, featuring a statement directed toward the underrepresentation of women in the art world with bullet points supporting evidence of gender discrimination below. They were not shy and made specific mention of galleries, exhibitions, and art valuations. This style was heavily inspired by the work of Jenny Holzer and Barbara Kruger. These Guerrilla Girl early works relied on text and graphic design, and used advertising techniques to make pointed social commentary. The group often targeted specific galleries, museums, and individuals.
The Guerrilla Girls continue to don the gorilla masks to maintain anonymity and to not put focus on their personalities, but the issues they were fighting. Their true identities still remain unknown. Each member took on the name of a deceased artist or other creative luminary like Frida Kahlo, Rosalba Carriera, Lee Krasner, Gertrude Stein, Zora Neale Hurston, and others. These name choices were obviously made on purpose to connect them to trailblazing women in the art world who were still absent from most history textbooks, and whose work was even sometimes misattributed to male artists.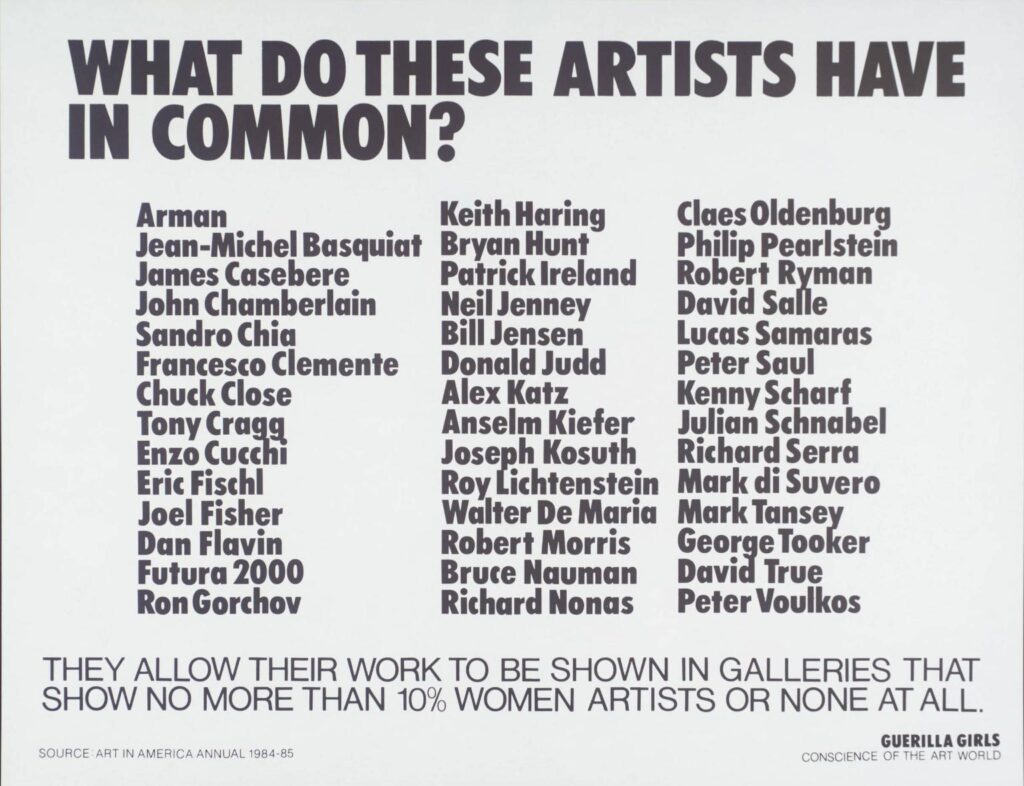 To combat the indifference against feminism and to truly get a reaction from the powers that be and the public, the Guerrilla Girls involved humor, irony, visible outrageousness, advertising design, and strategic targeting of individuals and institutions. They certainly were not afraid to seem pushy and obnoxious, the Guerrilla Girls persisted in waging a sort of war on what they felt was an unfair system.
They were best-known for their famous big poster campaigns, but the the Guerrilla Girls also did much more. They conducted public actions, exhibitions, panels, and lectures that targeted specific institutions and individuals that held gatekeeper status. One 1985 poster stated, "On Oct. 17 the Palladium Will Apologize to Women Artists" (the Palladium, a famous dance club in New York that showcased work by contemporary artists, had only ever shown work by men). The club responded favorably, working with the Guerrilla Girls to issue an open call to women artists, and staging a week-long exhibition of work by women. A group of members of the Palladium would go on to resign in protest over the all-female show. Talk about making a stir! Institutions were definitely starting to take notice.
In 1987, The Clocktower, an independent exhibition space, invited the Guerrilla Girls to organize an exhibition of work protesting the Whitney Museum's Biennial of contemporary American art cheekily titled, "Guerrilla Girls Review the Whitney". In 1989, hoping to reach a larger audience, the group created perhaps their most famous poster, Do women have to be naked to get Into the Met. Museum? It ran as an ad on public buses. The prominent placement and memorable simplicity of the image and caption, probably still their best-known work, had the desired effect, lifting them and an awareness of the issue into mainstream public consciousness.
Mature Work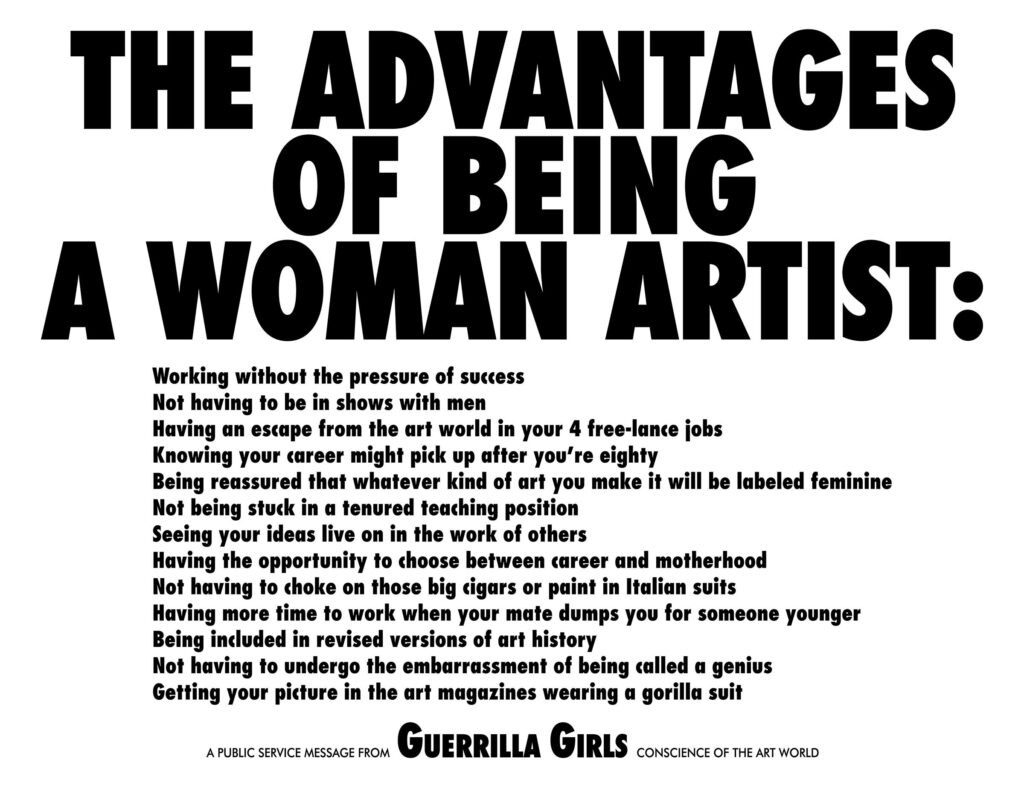 After their powerful campaigns lifted them to notoriety in the late 80's, the Guerrilla Girls began to develop a cult following. They continued to do their work by employing advertising designs, startling images, selected facts, and targeting a specific audience in posters, stickers, and billboards. They appeared at panels, lectures, exhibitions, and performances at increasingly mainstream art institutions and universities. In 1988, they issued what is probably their second most famous poster entitled sarcastically "The Advantages of Being a Woman in the Art World", demonstrating with an arresting image and statistics that exclusionary institutional practices were alive and well in the contemporary art world.
In 1998 they published the best-selling Guerrilla Girl's Bedside Companion to the History of Western Art (1998), which is a comic book in their characteristic style telling the history of art using only women. It shows how some of women's best works were attributed to men, left out of mainstream art history books, and devalued in the art market.
The group did not just stop at critiquing fine art spaces, and even turned their attention to film with works that addressed the sexism of the film industry. UNCHAIN THE WOMEN DIRECTORS (2006), a billboard displayed in Hollywood during Oscar month, was made in protest of the underrepresentation of female directors.
Continuing the Movement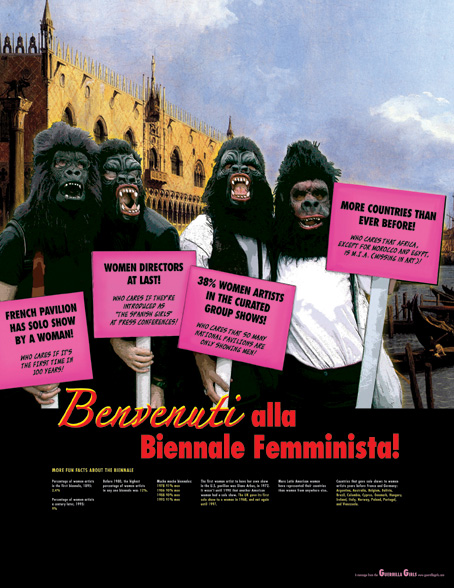 Today, Frida Kahlo and Kathe Kollwitz are the only founding members who remain active. It is estimated that 100 women have participated in the group over the years. Ideologically, however, the group espouses a philosophy that includes all women as potential members.
A growing presence in the art world and beyond, the Guerrilla Girls have reached an ever-wider audience. Their participation in the mainstream art world and beyond reflects their success in raising awareness of racism and sexism across the board.
Since 2000, offshoots of the Guerrilla Girls have emerged, which makes the group at this point seem more like a movement than an artists' collective. Among them are Guerrilla Girls, Inc. (established by two of the movement's founders), GuerillaGirlsBroadBand, Inc., and Guerrilla Girls On Tour, Inc. Whether within these organizations, or otherwise, the Guerrilla Girls continue to this day to track the percentages of women and artists of color included in exhibitions, galleries, and art journalism, and underscore any double standards!